The following midstrength beers are available in Melbourne, with tasting notes as published by the brewery. This list is intended as a general guide only, and may not feature all beers available. Also, some breweries may simply act as distributors for smaller breweries.
For more detailed information on the breweries, click on the Breweries link on the left hand side menubar.

Carlton Light (2.9%)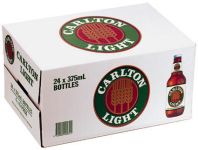 Brewed to maintain full flavour, Carlton Light is a lightly coloured lager style beer with a distinct malt character which is complemented by a full bodied mouth feel and clean hop bitterness. Balanced by a pleasant slightly yeasty aroma, Carlton Light presents the beer drinker with a true lager with reduced alcohol content.
Carlton Midstrength Bitter (3.5%)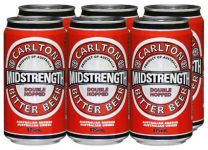 The use of traditional bittering hops and the finest hop extracts combine to give this beer its delightful hop character. The muted malt flavours in this midstrength beer give it perfect balance and drinkability.

Tooheys Gold (3.2%)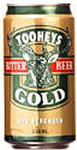 Launched in 1993, this medium strength bitter beer with its fine estery finish can be enjoyed glass after glass.
XXXX Gold (3.6%)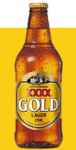 Launched in 1979, XXXX Gold has a balanced smooth flavour and body, complemented by mild bitterness and trace sweetness from extra malt.
(de) Melbourne - Halbstarkes Bier
(dk) Melbourne - Halvstærk øl
(es) Melbourne - Cerveza mediana
(fr) Melbourne - Bière moyenne
(it) Melbourne - Birre a medio tasso alcolico
(nl) Melbourne - Bier (3% - 4%)
(se) Melbourne - Mellanöl
(tr) Melbourne - Orta-sert Bira