The following ales and stouts are available in Melbourne, with tasting notes as published by the brewery. This list is intended as a general guide only, and may not feature all beers available. Also, some breweries may simply act as distributors for smaller breweries.
For more detailed information on the breweries, click on the Breweries link on the left hand side menubar.

Abbotsford Invalid Stout (5.6%)

Made from selected raw materials using yeast strain, this stout is designed to appeal to both beer and stout drinkers. Slightly lighter and less bitter than traditional stouts it has a softer finish while still retaining the roasted malt, fruity and yeasty flavour notes.
Cascade Stout (5.6%)

A full-bodied, strong roasted character which is pleasantly bitter. It is neither sweet nor dry but has a smooth lasting flavour and exhibits a thick creamy head. The alcohol content is the highest of any of the Cascade product range.

Tooheys Old (4.4%)

Launched in 1869, Tooheys Old is a robustly flavoured ale made with top fermentation ale yeast. The beer is lightly hopped and black malt gives it darker colour. Subtle hoppiness and a hint of coffee/chocolate.

Dark Ale (4.5%)

Coopers Dark Ale is a cask-conditioned, naturally brewed ale produced in the same manner as the Sparkling Ale, with the flavour lying somewhere between the Sparkling Ale and Stout. The texture and appearance, however, are less syrupy and cleaner. A blend of roasted and chocolate malts are used to give Dark Ale its unique flavou. Not a heavy beer.
Pale Ale (4.5%)

Coopers Pale Ale is not a low alcohol beer - instead it sits in the middle ground, retaining a full fruit "ale" flavour. Naturally fermented in the "Burton-on-Trent" style, its secondary fermentation creates a cloudy, fine residue in the finished product, which can be stirred through the beer by tipping the bottle before drinking.
Premium Ale (4.9%)

Chill filtered, it does not have the cloudy appearance of the Sparkling Ale but retains the complex and fuller flavour due to the ale yeast which produces superior flavours to lager yeast beers. Brewed using malted and unmalted grains giving a rounded and full-bodied palate, a golden colour and good, creamy head.
Sparkling Ale (5.8%)

Widely available, Sparking Ale displays a solid head and a distinctive, full-bodied flavour. The flavour is enhanced by a soft, fruity character and the sediment which gives it a cloudy appearance.
Stout (6.3%)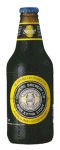 A fine example of a robust, full flavoured stout. Its rich and dark texture comes from specially roasted black malt.
Thomas Cooper's (4.9%)

Grandad bottled. A very thirst-quenching beer of brilliant clarity, this has been dubbed as Export Beer. Best served extremely chilled.

Mountain Goat Hightail Ale (4.5%)

A traditional English style 'real ale', Hightail Ale is deep amber in colour with a rich malt body and floral hop aroma. Crystal malt gives it a smooth chewiness, and with low carbonation it has great 'mouth feel'. Can be served at traditional ale temperature or icy cold.
The Mountain Goat brewery also have an open day on the first Friday of every month — more details at: goatbeer.com.au
Mountain Goat Pale Ale (4.5%)

An Australian style full strength pale ale featuring golden-straw colourings, floral honey aromas and spicy hop bitterness. An imported American Ale yeast imparts a soft, dry fruitiness. Unlike the Hightail Ale, Pale Ale is best enjoyed ice cold.

3 Ravens Black (5.0%)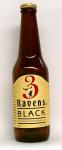 An Oatmeal Stout with roasted and chocolate malts, sweet Munich and caramel malts and oatmeal.
3 Ravens Blond (5.0%)

A smooth, full-flavoured, honey-coloured beer made from a blend of three different barley malts and Saaz hops from Bohemia. The result is a malty, full-bodied brew with strong apricot character.
3 Ravens Dark (5.0%)

A Brown Porter combining chocolate malt with the sweetness of caramel malts.
(de) Melbourne - Ale und Dunkles Bier
(dk) Melbourne - Mørk øl
(es) Melbourne - Ale y Cerveza negra
(fr) Melbourne - Ale ou Bière brune
(it) Melbourne - Ale e Stout
(nl) Melbourne - Ale en Stout
(se) Melbourne - Ale och Stout
(tr) Melbourne - Ale ve Stout